Whitney Performance Workstations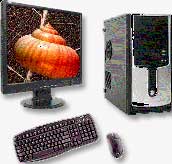 The Whitney platform is our high end standard business class workstation. While the big OEM's have removed legacy devices like floppy drives and PS/2 ports from their computers, we have kept these devices in our systems, allowing maximum flexibility. The components used to configure this platform are always in the top 80% of current components.
We use the Central Processing Unit (CPU) and Motherboard "Roadmap" provided by Intel to determine the components we use. The Whitney platform comes standard with a DVD±RW. We pride ourselves in the fact that our systems are built to last for many years. The average life of a business computer in today's environment is calculated at less than 2 years. Since we configure our systems at the top of the SKU's available, it is not uncommon for the Whitney platform to be in a production inventory for 5 years or more. Our clients receive this longevity, and a 3 Year Warranty, priced to beat the big OEM manufacturers.
All Whitney Performance Workstations come standard with RollBack RX Professional, a restoration utility, at no additional charge (a $69 value). This robust disaster recovery utility gives the owner of the Whitney Workstation the option to restore their system to its "out of the box" state, or to create a new image after all of their software is installed and configured.